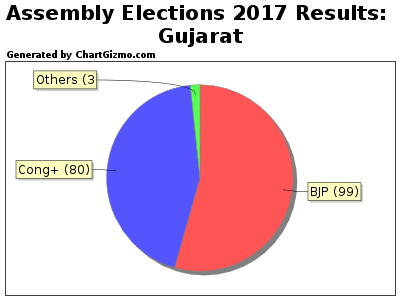 Read in-depth stories, galleries, updates on Assembly Elections | Gujarat Polls
After a bitter and intense campaign from both the BJP and the Congress-led Opposition over issues ranging from vikas, demonetisation and GST to unemployment and rural distress,
t
he BJP on Monday headed for a record sixth straight victory in Gujarat assembly polls, and was set to evict the Congress in Himachal Pradesh, widening the party's grip over the country's politics with general elections only 18 months away.
Read: Live updates of Gujarat election results in Hindi | Gujarati
Although it clinched a victory, the BJP's vote share has slumped sharply since the 2014 Lok Sabha polls when it clocked nearly 60 per cent votes, while that of Congress has improved significantly -- still not good enough for the Rahul Gandhi- led party to win sufficient number of seats. As per the results declared today by the Election Commission, the BJP has got close to 49.1 per cent votes, down from nearly 60 per cent in 2014 but somewhat higher than nearly 48 per cent it polled in the 2012 state assembly polls. On the other hand, Congress' vote share has risen to about 41.4 per cent this time -- up from 33 per cent in the 2014 Lok Sabha elections and also higher than around 39 per cent in the 2012 assembly polls.
As Gujarat chief minister and Bharatiya Janata Party (BJP) leader Vijay Rupani, who was earlier trailing after the count of postal ballots, won from Rakjot West the party's victory seemed to be a clincher.
Rupani got 11,369 votes after two hours of counting, as per Election Commission data. Rajyaguru, on the other hand, managed 7,582 votes during initial stages of counting. Prime Minister Modi, assured of a victory, flashed a victory sign as he arrived in the Parliament.
Delhi: Prime Minister Narendra Modi arrives in the Parliament, flashes victory sign. #ElectionResults pic.twitter.com/X508VBydeW

— ANI (@ANI) December 18, 2017
The latest updates on Gujarat polls 2017 is down below: