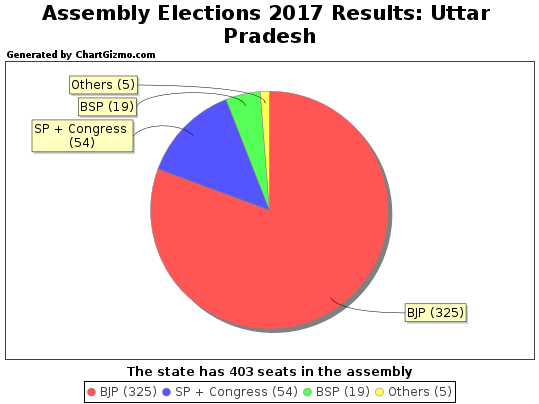 The BJP has clinched a massive win in the UP - their biggest ever, bigger than even the 1991 mandate won by a Kanshi Ram riding on the Ram Janmabhoomi wave. Amit Shah the party president has already congratulated all party men, Prime Minister Modi and state president Keshav Prasad Maurya, the possible next Chief Minister, for their unstinting efforts in securing a two-thirds majority in India's most populous state.
Modi's clean image, his demonetisation drive, his charisma as a vote puller, as we had mentioned earlier, have all played a huge role in getting the BJP here. Their return to power after 15 years is a massive endorsement for the Prime Minister.
The internal squabbles within the Samajawadi Party and their decision to align with a weakened Congress, who have won just 6% of the vote share and to whom the SP handed way too many seats, also helped the BJP.
The one big loser has been Mayawati, who has been inflicted a painful defeat. It does seem like she has lost her hold over her erstwhile loyal voter base, who kept returning to her despite her arrogance and her corruption. If she can't do better than pin the blame on the EVMs, she and her party might struggle to say relevant in UP in the years to come.
In the BJP's ranks, a quiet star has been born in Sunil Bansal, the near-invisible BJP organisation secretary in the state, whose micro-management of the campaign, has come in for a lot of praise from all around.
He was the man on the ground who helped Modi and Amit Shah fashion this epic win, one that puts them in the driving seat ahead of the 2019 Lok Sabha elections.
Punjab | Goa | Manipur | Uttarakhand
Last Updated:
11 Mar 2017, 19:06:48 PM
| | | |
| --- | --- | --- |
| | LIVE: BJP scripts biggest-ever win by a single party in Uttar Pradesh in 40 years | |