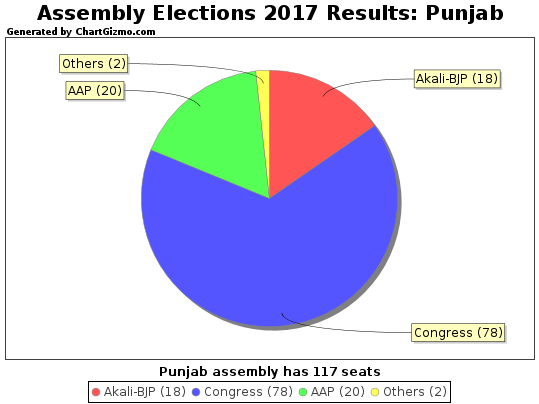 Also see Uttar Pradesh | Manipur | Uttarakhand | Goa
The Indian National Congress (INC) is headed for a historic victory as it's set to come to power in Punjab after ten years.
The Congress is headed for a two-third majority in the 117-seat Punjab assembly, with veteran Amarinder Singh set to return as Chief Minister of the border state.
The Indian National Congress, which had been out of power in Punjab for a decade, won 77 seats paving the way for the next Congress government in Punjab.
Prime Minister Narendra Modi spoke to Amarinder Singh and congratulated him. The Aam Aadmi Party (AAP), which claimed it could win up to 100 seats, got only 20 and is leading in one more. Its ally, Lok Insaf Party (Others), won two seats.
The saving grace for the AAP is that it will be the main opposition in the new assembly.
The Shiromani Akali Dal-Bharatiya Janata Party (BJP) alliance, which ruled Punjab since 2007, finished a poor third with 18 seats. The Akalis won 15 seats while BJP won three seats.
Ten ministers, including all four from the BJP, were defeated.
Having won Punjab for his party on his 75th birthday, Amarinder Singh said his first priority would be to eradicate drugs from the state.
"The people of Punjab have given us a big mandate. Our first priority will be to eradicate drugs from Punjab. I have vowed to finish drugs within four weeks," a visibly happy Amarinder Singh told the media.
A former Chief Minister (2002-07), Amarinder Singh turned 75 years old on Saturday.
He was non-committal on having cricketer-turned-politician Navjot Singh Sidhu as Deputy Chief Minister in the next government.
"That will be decided by Congress Vice President Rahul Gandhi. All ministers will be decided by the party leadership."
In Chandigarh, security was enhanced outside the private bungalow of Amarinder Singh in the upscale Sector 10. A metal detector and more security personnel were deployed as the number of visitors increased.
Outgoing Chief Minister Parkash Singh Badal accepted defeat and said he will resign on Sunday.
Badal, 89, the oldest Chief Minister in the country, said: "I am grateful to the people of Punjab for giving me an opportunity to serve them. I am fully satisfied with all the things I was able to do. I seek forgiveness for any mistakes."
On the Lambi assembly seat, where Amarinder Singh had challenged Badal on his (Badal's) home turf, Badal won by 22,770 votes. But Amarinder Singh won his traditional Patiala Urban seat by over 52,400 votes.
The Chief Minister's son Sukhbir Singh Badal, the Akali Dal President, led in Jalalabad over AAP's Bhagwant Singh Mann.
Cricketer-turned-politician Navjot Singh Sidhu dubbed the Congress victory as its "revival" and blamed the Akali rout on its leadership's "arrogance and turning the treasury into personal property".
Sidhu, who left the BJP to join the Congress last year, also attacked Delhi Chief Minister Arvind Kejriwal. "Kejriwal had wrong intentions. It is a huge defeat for him."
Prominent AAP winners included Sukhpal Singh Khaira, H.S. Phoolka and Kanwar Sandhu. The AAP also finished second in 26 constituencies.
Inputs: IANS
Follow LIVE blog here...
Last Updated:
11 Mar 2017, 19:16:16 PM
| | | |
| --- | --- | --- |
| | LIVE UPDATES: PUNJAB - COUNTING DAY | |
18.05 PM

Congress candidate SUNIL DUTTI is leading in

Amritsar North which is the only result that is yet to be declared.



18.04 PM

Congress candidates Nathu Ram and Arun Dogra have won in Balluana and Dasuya

constituencies, respectively.



| | |
| --- | --- |
| 17.34 PM | Congress candidate Brahm Mohindra wins in Patiala Rural constituency, three more to go and INC is leading in all. |
17.12 PM

Only four constituencies remaining now:




Amritsar North

SUNIL DUTTI (leading)

Indian National Congress




Balluana

NATHU RAM

(leading)

Indian National Congress




Dasuya

ARUN DOGRA

(leading)

Indian National Congress

Patiala Rural

BRAHM MOHINDRA

(leading)

Indian National Congress



| | |
| --- | --- |
| 16.55 PM | Counting still on in Amritsar North, Baba Bakala, Balluana, Dasuya, Jalandhar Central, Patiala Rural and Sanour constituencies. |
15.43 PM

Dinesh Singh, BJP - Sujanpur

Navtej Singh Cheema, INC - Sultanpur Lodhi

Aman Arora, AAP - Sunam

Prog. Baljinder Kaur, AAP - Talwandi Sabo

Dr. Dharambir Agnihotri, INC - Tarn Taran

Sangat Singh Gilzian, INC - Urmar

Kulbir Singh, INC - Zira



15.40 PM

Balbir Singh Sidhu, INC - S.A.S.Nagar

Sharanjit Singh Dhillon, SAD - Sahnewal

Rajinder Singh, INC - Samana

Amrik Singh Dhillon, INC - Samrala

Vijay Inder Singla, INC - Sangrur

Dilraj Singh, SAD - Sardulgarh

Ajit Singh Kohar, SAD - Shahkot

Pawan Kumar Adia, INC - Sham Chaurasi

Nirmal Singh, INC - Shutrana

Balwinder Singh, INC - Sri Hargobindpur



15.33 PM

Jagtar Singh Jagga Hissowal, AAP - Raikot

Sukhbinder Singh Sarkaria, INC - Raja Sansi

Hardial Singh Kamboj, INC - Rajpura

Gurpreet Singh Kangar, INC - Rampura Phul

AMARJIT SINGH SANDOA, AAP - Rupnagar



| | |
| --- | --- |
| 15.33 PM | Fatehjang Singh Bajwa, INC - Qadian |
15.29 PM

Amit, INC - Pathankot

Amarinder Singh, INC - Patiala

Harminder Singh Gill, INC - Patti

Lakhvir Singh Lakha, INC - Payal

Som Prakash, BJP - Phagwara

BALDEV SINGH KHAIRA, SAD - Phillaur



15.26 PM

Rajnish Kumar Babbi, INC - Mukerian

Kanwarjit Singh, SAD - Muktsar

Sadhu Singh, INC - Nabha

Gurpratap Singh Wadala, SAD - Nakodar

Angad Singh, INC - Nawanshahr

Manjit Singh, AAP - Nihal Singhwala



15.22 PM

Parkash Singh, SAD - Lambi

Parminder Singh Dhindsa, SAD - Lehra

Surinder Kumar Dawar, INC - Ludhiana Central

Sanjeev Talwar, INC - Ludhiana East



15.18 PM

Bickram Singh Majithia (Akali) has won from Majitha.

Here are a few other winners:

Rana Gurjit Singh, INC - Kapurthala

Chaudhary Surinder Singh, INC - Kartarpur

Ramanjeet Singh Sahota Sikki, INC - Khadoor Sahib

Gurkirat Singh Kotli, INC - Khanna

Kanwar Sandhu, AAP - Kharar

Sukhpal Singh Bhullar, INC - Khem Karan

Kultar Singh Sandhwan, AAP - Kotkapura






15.07 PM

More winners:




Saravjit Kaur Manuke, AAP - Jagraon

Pargat Singh Powar, INC - Jalandhar Cantt.

Avtar Singh Junior - Jalandhar North

Sushil Kumar Rinku, INC - Jalandhar West

Sukhwinder Singh Danny Bandala, INC - Jandiala



14.56 PM




Jai Krishan, AAP - Garhshankar

Amarinder Singh, INC - Gidderbaha

Sunder Sham Arora, INC - Hoshiarpur



14.56 PM

Kusaldeep Singh Kiki Dhillon, INC - Faridkot

Kuljit Singh Nagra, INC - Fatehgarh Sahib

Parminder Singh Pinki, KI, INC - Firozpur City

Satkar Kaur, INC - Firozpur Rural



14.38 PM

More winners:




Harvinder Singh Phoolka, AAP - Dakha

Sukhjinder Singh Randhawa, INC - Dera Baba Nanak

Sukhjit Singh, INC - Dharamkot

Harpal Singh Cheema, AAP - Dirba



14.31 PM

And the winners are:




Dr. Raj Kumar, INC - Chabbewal constituency

Charanjit Singh Channi, INC - Chamkaur Sahib



14.22 PM

More winners!




Darshan Lal, INC - Balachaur

Gurpreet Singh, INC - Bassi Pathana

Gurmeet Singh Meet Haher AAP - Barnala

Rupinder Kaur Ruby, AAP - Bathinda Rural

Joginder Pal, INC - Bhoa



14.18 PM

Winner announced!

Gurmeet Singh Meet Haher AAP - Barnala Constituencey



14.14 PM

More winners announced!




Arun Narang, BJP - Abohar

Randeep Singh, INC - Amloh

Om Prakash Soni, INC Amritsar Central

Tarsem Singh D.C, INC - Attari





Navjot Singh Sidhu, INC - Amritsar East
Simarjeet Singh Bains, Lok Insaaf Party - Atam Nagar

13.19 PM

We will discuss the reasons in the core committee meeting & analyse each aspect of our performance in the elections: Prakash Singh Badal pic.twitter.com/jnSI6VEvn1

— ANI (@ANI_news) March 11, 2017



12.44 PM

Winner announced! Dr. Raj Kumar, INC -

Chabbewal constituency



12.43 PM

Winner announced! Sukhpal Singh Khaira, AAP

-Bholath constituency





12.28 PM

Amarinder Singh is addressing media now

CLP Meeting has been called tomorrow at 2 PM: Captain Amarinder Singh,Congress #ElectionResults pic.twitter.com/FcYfSFCZP4

— ANI (@ANI_news) March 11, 2017

Amarinder Singh: Drugs is the first thing I will tackle; Health, education are all priorities

12.25 PM

Aam Aadmi Party leader Ashutosh told IANS that it was disappointed it did not win the Punjab assembly election but added that even becoming the main opposition was an achievement.


"But for a new party (in the state) even coming at the second place is also a big thing. Don't underestimate this. We were hoping to form a government in Punjab. We are disappointed with the result," he said, as vote count showed the Congress sweeping to victory in assembly election.

He said all the AAP leaders needed to introspect where the party's assessment of taking power in the border state with more than 100 of the 117 seats went wrong.



| | |
| --- | --- |
| 12.15 PM | Winner announced! Kanwar Pal Singh, INC - Anandpur Sahib constituency |
| | |
| --- | --- |
| 12.14 PM | Winner announced! Sushil Kumar Rinku, INC - Jalandhar West constituency |
| | |
| --- | --- |
| 12.09 PM | Sidhu: Kejriwal's intent defeated AAP |
| | |
| --- | --- |
| 12.06 PM | Navjot Singh Sidhu speaks in Chandigarh as Congress takes huge majority, says 'it's the beginning of revival for Congress.' |
| | |
| --- | --- |
| 12.02 PM | Congress leading in 73. AAP a far second, leading in 26 seats. The Akali Dal is leading in over 16 seats and the BJP in 2-3 seats. |
| | |
| --- | --- |
| 11.48 AM | Congress cruising towards victory in Punjab is currently leading in 71 seats. |
11.48 AM




First official reaction from an Akali leader




"We accept people's verdict. Wait little more for the picture to get clear, says Harcharan Bains, media advisor to CM.



| | |
| --- | --- |
| 11.12 AM | Congress candidate and former hockey captain Pargat Singh leading by 9112 in Jalandhar Cantt over SAD. |
11.04 AM

In Punjab, KPS Gill spoke tough truth: that AAP had co-opted old radical/Khalistani elements. Gill's poll-eve appeal to voters helped Cong

— Shekhar Gupta (@ShekharGupta) March 11, 2017



11.03 AM

So far Akali Dal's vote share in Punjab is more than AAP, and, political pundits had been predicting AAP sweep. Irony! #ElectionResults

— vishal verma (@vxrising) March 11, 2017



10.45 AM

"UP never mattered to us. It is due to the sole efforts of Rahulji that we're winning the most important state of Punjab."
- Congress.

— Kshitij (@GitanjaliBhakt) March 11, 2017



10.21 AM

Navjot Sidhu is leading by 6,000 votes in Amritsar East.

SAD's Bikram Singh Majithia leading from Majitha by 6549 votes

10.13 AM

Election commission update on trends (115/117)

Cong 61

SAD-BJP 31

AAP 22

Oth 1



| | |
| --- | --- |
| 09.48 AM | AAP's Gurpreet Singh Ghughi is leading from Batala |
| | |
| --- | --- |
| 09.46 AM | "Punjab and Goa could be a great learning experience on what went wrong. But the clear advantage would be that after the BJP, Congress we would be a party with a footprint in more than 2 states," says AAP's Somnath Bharti |
09.42 AM

According to Election Commission, AAP leading in Bhadaur, Budhlada, Bathinda Urban, Dhuri and Dirba, Nawanshahr and Nihal Singhwala, Roopnagar

Congress leading in Khadoor Sahib. SAD leading in Lambi, Majitha & Moga






| | |
| --- | --- |
| 09.36 AM | "We are new to politics, we don't understand numbers very much. We believe in hard work, hard work for people, hard work in the assembly. I still believe the trends will reverse by 10:30 am," says AAP's Somnath Bharti on Punjab leads. |
| | |
| --- | --- |
| 09.31 AM | Exit polls are proving to be right. Based on the leads right now, Congress is winning Punjab. AAP is second. |
| | |
| --- | --- |
| 09.17 AM | Lambi: Punjab CM Parkash Singh Badal is ahead of Captain Amarinder Singh (Congress) by a margin of 1,245 votes |
| | |
| --- | --- |
| 09.04 AM | Congress leading after an hour of counting Punjab Deputy CM & Akali President Sukhbir Singh Badal is trailing from Jalalabad seat. AAP lawmaker Bhagwant Mann is currently leading there. |
| | |
| --- | --- |
| 09.02 AM | Early trends in Punjab (38/117) Congress 25 AAP+ 7 Akali+ 5 Others 1 |
08.57 AM

Early trends in Punjab give Congress a big edge, leading in 15 out of 19. AAP and SAD way behind at 2 seats each.

#Punjab 19 leads in, 15 are for Congress #ResultswithNDTV

— Suparna Singh (@Suparna_Singh) March 11, 2017



| | |
| --- | --- |
| 08.44 AM | Prakash Singh Badal is leading after the first round at Lambi. Captain Amarinder Singh is 2nd and AAP's Jarnail Singh third. |
| | |
| --- | --- |
| 08.37 AM | The early leads that are coming in are giving a mixed picture - 3 for Congress, 2 for AAP, 1 for SAD. |
08.14 AM

Captain Amarinder Singh turns 75 today! Will he get his birthday gift?

Counting is taking place at 54 centres in 27 locations. Early trends are likely to emerge within the first couple of hours.

Amarinder Singh is expected to go to Patiala only if he wins. He is contesting from two seats: Patiala and Lambi.

| | |
| --- | --- |
| 08.03 AM | Counting of votes begin. Counting of postal votes starts. We will have leads coming in 10 minutes from now. |
| | |
| --- | --- |
| 07.32 AM | Good Morning! Who will form the next government in Punjab? The counting of votes is set to begin in less than 30 minutes. |
18.48 PM

If there is one thing that is certain ahead of counting in Punjab, it is that the ruling Akali-BJP combine are set for an almost total rout.




But that is where the certainty ends. Even the poll of exit polls for the 117-member Punjab assembly predicted a too-close-to-call fight between Captain Amarinder Singh's Congress and Arvind Kejriwal's Aam Aadmi Party.




The "satta" (betting) market though believes that new entrants AAP are set to clinch a clear majority.




Try telling that to Captain Amarinder Singh. "From all the available information, the Congress is definitely forming the next government in Punjab. We should get around 65 seats," the ex-Chief Minister said.




Come Saturday, the agricultural Malwa belt, the region south of the river Sutlej, that alone accounts for 69 seats, could hold the key in deciding if he is right or the bettors are.