Himachal Pradesh will witness a landslide win for BJP, if exit polls predictions are to be believed. Nearly 72 per cent of 50.25 lakh electorate voted on 9 November in the assembly elections where the ruling Congress and the BJP were locked in a straight contest.
The Congress has projected incumbent Virbhadra Singh as its Chief Ministerial candidate, while former CM Prem Kumar Dhumal is the BJP's. Both are contesting the elections.
Read: What the Gujarat exit polls predictions say
In the current Himachal Pradesh assembly, the Congress and the BJP have 35 and 28 MLAs, respectively, in the 68-member house. Besides, there are four independents, while one seat is vacant. The Congress and the BJP have been returning to power alternately since 1985. The BJP is claiming that it is their turn to stage a comeback.

Here are the exit polls predicting the results of Himachal Pradesh Assembly Elections 2017.
Indai Today-Axis exit poll
The Axis My India exit poll by India Today in the early trend has predicted al win of 47-55 seats for BJP, while Congress is likely to get anywhere between 13-20 seats. The halfway mark in the 182-seat Gujarat Assembly is 92. A big win has been forecasted for BJP.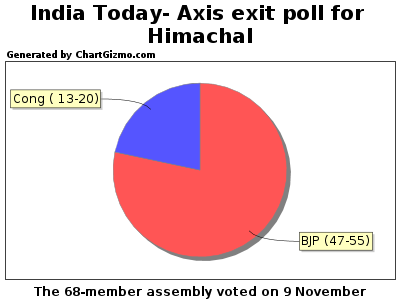 Online-CVoter exit poll
The exit polls by Times of India sees a clear win for BJP in Himachal Pradesh Assembly Elections with 41 seats, and Congress reduced to 25 seats.
Republic-Jan Ki Baat exit poll
The poll predicts 108 seats for the BJP in Gujarat, while the Congress, it says, will win 74 seats.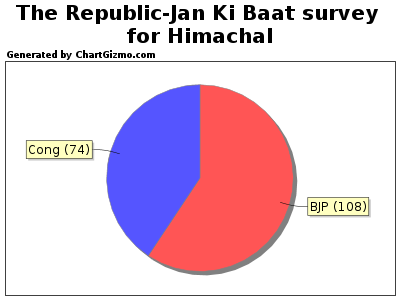 New Nation exit poll
The survey predicts a clear BJP majority in Himachal with easily 43-47 seats, while Congress it said will get close to19-23 seats . The halfway mark is 35.
Today's Chanakya exit poll
A survey by Today's Chanakya has predicted a sweeping win for BJP in Himachal with 55 seats, while Congress is likely to get only 13 seats and others merely 3 seats. All eyes are on this poll as Today's Chanakya was the only exit polls that got the 2014 results right.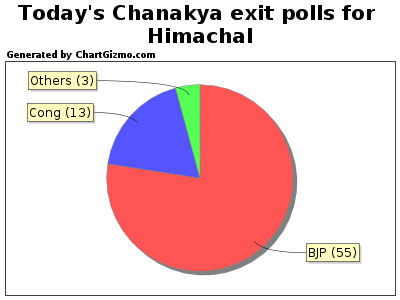 Times Now-VMR exit poll
The poll in Himachal shows an advantage for BJP predicting a win of 51 seats, while Congress will be reduced to only 16 in the assembly. The halfway mark in the 68-seat Himachal assembly is 35 seats.